In recent years, advancements in technology have transformed various aspects of our lives, and mobility aids are no exception. Portable power wheelchairs have emerged as a game-changer, providing individuals with limited mobility the freedom to navigate their surroundings with ease and independence. Unlike traditional wheelchairs that rely on manual propulsion or bulky electric models, portable power wheelchairs offer a compact and versatile solution that enhances mobility and quality of life. In this article, we will explore the features, benefits, and potential impact of portable power wheelchairs on individuals with mobility challenges.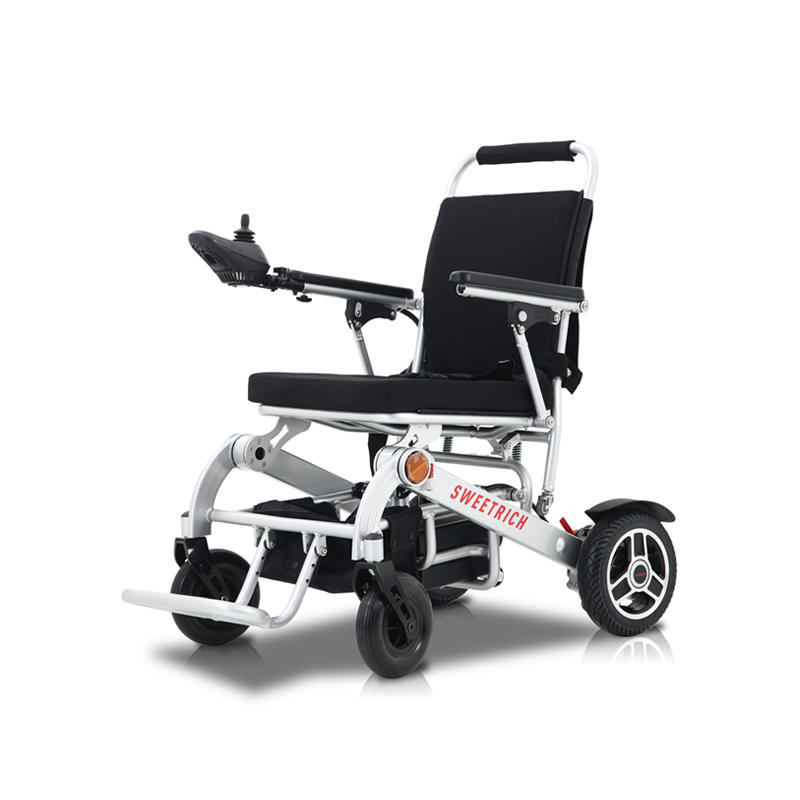 Compact and Lightweight Design:
One of the most significant advantages of portable power wheelchairs is their compact and lightweight design. These wheelchairs are specifically engineered to be highly maneuverable and easy to transport. They are often foldable or disassemble into smaller components, allowing users to store them in the trunk of a car or carry them on public transportation. The reduced weight makes them manageable for individuals with limited upper body strength, ensuring they can enjoy increased mobility without relying on external assistance.
Enhanced Mobility:
Portable power wheelchairs are equipped with powerful electric motors and reliable batteries, granting users greater independence and mobility. With the touch of a button or joystick control, users can effortlessly navigate a variety of terrains, including uneven surfaces, ramps, and inclines. The compact size and tight turning radius enable easy maneuvering in narrow spaces, such as crowded restaurants, shopping malls, or home environments. These wheelchairs are designed to adapt to the user's needs and promote an active and inclusive lifestyle.
Convenient and User-Friendly Features:
Modern portable power wheelchairs offer a range of convenient features to enhance the user experience. Many models come with adjustable seating positions, allowing users to find the most comfortable and ergonomic position for extended use. Additionally, they often feature customizable controls, enabling individuals to tailor the chair's settings to their specific requirements. Some advanced models may include built-in USB charging ports for electronic devices, storage compartments for personal belongings, and intuitive control panels with easy-to-read displays.
Improved Safety and Accessibility:
Portable power wheelchairs prioritize user safety and accessibility. They are equipped with essential safety features, including anti-tip wheels, seat belts, and reliable braking systems to prevent accidents or injuries. These wheelchairs also promote accessibility by complying with ADA (Americans with Disabilities Act) standards and ensuring individuals with disabilities can navigate public spaces and buildings more efficiently. Portable power wheelchairs empower users to participate in social activities, engage in outdoor adventures, and enjoy greater accessibility in their everyday lives.
Psychological and Social Impact:
The introduction of portable power wheelchairs has had a profound impact on the psychological well-being and social inclusion of individuals with mobility challenges. By providing greater independence and mobility, these wheelchairs help users overcome physical limitations and promote a sense of autonomy. The ability to move freely and participate in various activities fosters self-confidence, reduces dependence on others, and improves overall mental health. Furthermore, portable power wheelchairs facilitate social interactions, allowing users to engage more actively in their communities, attend social events, and connect with others without barriers.
Portable power wheelchairs
have revolutionized the concept of mobility aids, empowering individuals with limited mobility to lead more independent and active lives. With their compact design, enhanced mobility features, and user-friendly controls, these wheelchairs provide a versatile solution for navigating diverse environments. As technology continues to advance, portable power wheelchairs will likely become even more advanced, offering increased comfort, safety, and accessibility. By embracing this remarkable innovation, we can create a more inclusive society that values the mobility and well-being of all its members.